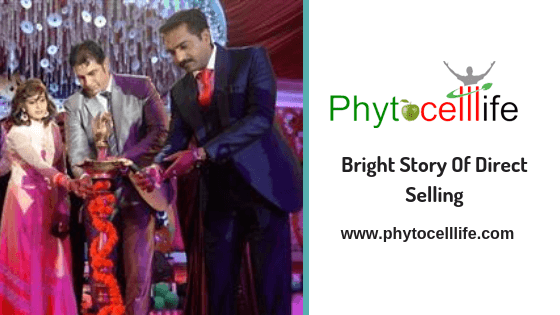 Phytocelllife Marketing Pvt Ltd is India's one of the fastest-growing direct selling company, started just two years back from Varanasi Uttar Pradesh in Healthcare segment by the duo well-established name in direct selling
Mr Amit Sarin and Mr Anurag Gupta.
The duo initiated the Network Marketing concept with the unique healthcare products originated from Malaysia. Indian consumers widely accept the product range due to its unique and effective health benefits, which is ensuring growth at very high speed.
Besides, Phytocelllife's products unique marketing plan is adding fuel to its direct selling growth. New joinings are making five to six-figure income within a period of three to four months of hard work.
The network marketing company which started from Varanasi has now become an international establishment and now operating in neighbouring countries such as Nepal & Bhutan as well.
Phytocelllife Marketing Pvt. Ltd. is now having a distributor base of over 25000, and it is growing at a speed of almost 20% every month which is extremely very high as per network marketing standards in India.
In just two years period of time, the company successfully coordinated national and international events in GOA, Thailand, Dubai and Singapore.
Witnessing more value to the distributor's company took more than 60 achievers for the most significant international extravaganza of all time in Singapore at the beginning of August 2018.
दिल्ली की रहने वाली अनीता शर्मा ने 18 जनवरी 2021 में घर में बैठे बैठे Doge Coin (2 रुपये प्रति coin) में लगाए 1 लाख रूपये लगाए 70 दिन बाद उनकी रकम हो गयी 24 लाख रूपये, घर बैठे कमाए 2 महीने में 23 लाख रूपये |आज ही अपना फ्री क्रिप्टो ट्रेडिंग अकाउंट खोल करे छोटी रकम से शुरुवात करिये और जुड़िये बिटकॉइन की क्रांति के साथ 
Click Here To Open Your Free Account
Experienced network marketing management, humble and caring directors, unique products, timely delivery, prompt payouts, world-class software and website, exclusive offers, awards and foreign trips for achievers are making this company brightest network marketing story in India.
If you are looking for a promising network marketing company, Phytocelllife Marketing Pvt. Ltd. is one of the fastest-growing network marketing or direct selling company available in India